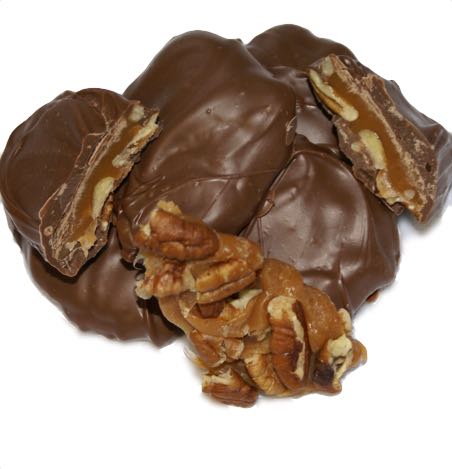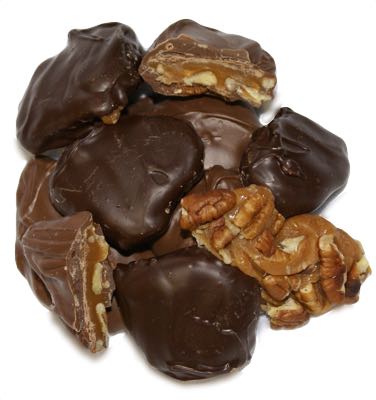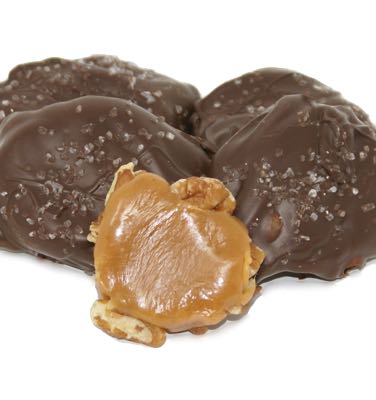 Chocolate Caramel Pecan Clusters (Turtles)
We pour our own fresh caramel over fresh pecans, then dip each cluster individually. Each cluster is made by hand, is larger and thicker than most clusters and therefore varies in size and weight. Once the Clusters are set we package them in thermal sealed bags to lock in the freshness. There are 12 to 16 Clusters per pound.
We place 6 to 8 clusters in a half pound box. The one-pound box will contain 2 half pound bags, each containing 6 to 8 clusters. If you order more than one pound we will send you multiple one-pound boxes.
We have received many favorable emails telling us how great the Chocolate Shoppe Clusters are, but we also get hand written letters from people who do not have email. Our clusters are that good. People will take time to hand write a letter and send it to us because they want us to know how much they enjoyed the clusters.
Sea Salt Caramel Nut Clusters (Turtles)
We want you to know that we place more salt on the caramel clusters than needed because we know that some crystals will fall off during shipping. If you prefer less salt, just roll some of the crystals off the caramel cluster.
No Melt Guarantee
If the order destination is warm, we automatically pack your chocolate in an insulated box with a reusable ice gel pack. There is no additional charge for the No-Melt packaging.