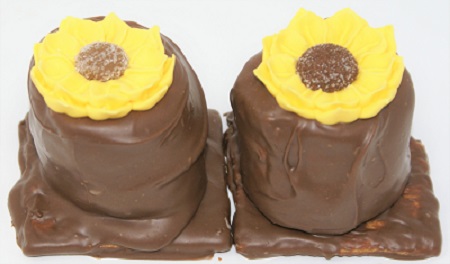 Chocolate S'mores
Love having S'mores by the campfire or simply as an anytime of the year snack? Well we make them jumbo sized and completely covered in Chocolate!
We take Jumbo Large Marshmallows, dip them in chocolate, set them on graham crackers and add a candy decoration to top it off to create our own version of a S'more. We place the S'mores in plastic bags to seal in the freshness. We then place 2 S'more bags in a sturdy nostalgic white box to keep them safe during shipping. The white box is then packed in a brown shipping carton and shipped to your destination. We double box all our chocolates to make sure they arrive in perfect shape. (The candy topping may vary for different seasons.)
No Melt Guarantee
If the order destination is warm, we automatically pack your chocolate in an insulated box with a reusable ice gel pack. There is no additional charge for the No-Melt packaging.